This article shows you how to disable two-factor authentication (2FA) for your users in Tethr. 2FA provides an extra layer of security for each Tethr account. As the number of websites losing personal data grows, it's more important than ever that we take every step we can to safeguard our customers' data. 2FA provides that safeguard—if someone's password is compromised your customers' data won't be lost.
---
Get started disabling 2FA from a Tethr user account:
Getting started: You'll need Administrator privileges in your organizations' Tethr account.
---
Disable two-factor authentication in Tethr
Tip: As a Tethr Administrator you can disable 2FA for any users in your organization.
Authy two-factor authentication relies on an active mobile phone number and a working mobile device. As an Admin, you can disable 2FA for your users if they:
lost their mobile device or
changed their mobile number.
Start by logging in to Tethr and navigate to the user's profile by selecting the arrow next to your profile initials or photo and then select Settings.
Under the Admin section of Settings, select Users from the left menu and enter the user's name in the search box to search for them in the list of users.
On the user's profile, you'll see a section labeled Two-factor authentication. Select Disable to turn 2FA off for a user's Tethr account.
Warning: Disabling a user's two-factor authentication cannot be undone.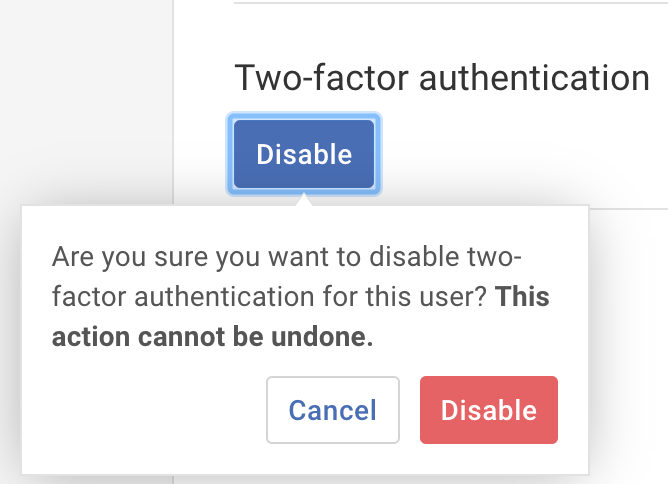 ---
Need additional support for Authy 2FA?
These additional Authy support articles can help you with downloading and installing the Authy app across mobile device types, understanding the types of accounts that you can secure with Authy's two-factor authentication, and adding a new 2FA account to Authy.