Overview:
Choose two periods to compare so you can see meaningful changes in data over time.
---
Getting started: Graphing features are available in both Search & browse and My reports.

From Search & browse, either select the Graphing tab next to the Filters tab, or begin a new search and select the option to Show graph next to the Save as a report button.

From My reports either select the Graphing tab or open a saved report in My reports list.

Select and compare date ranges on the graph using delta: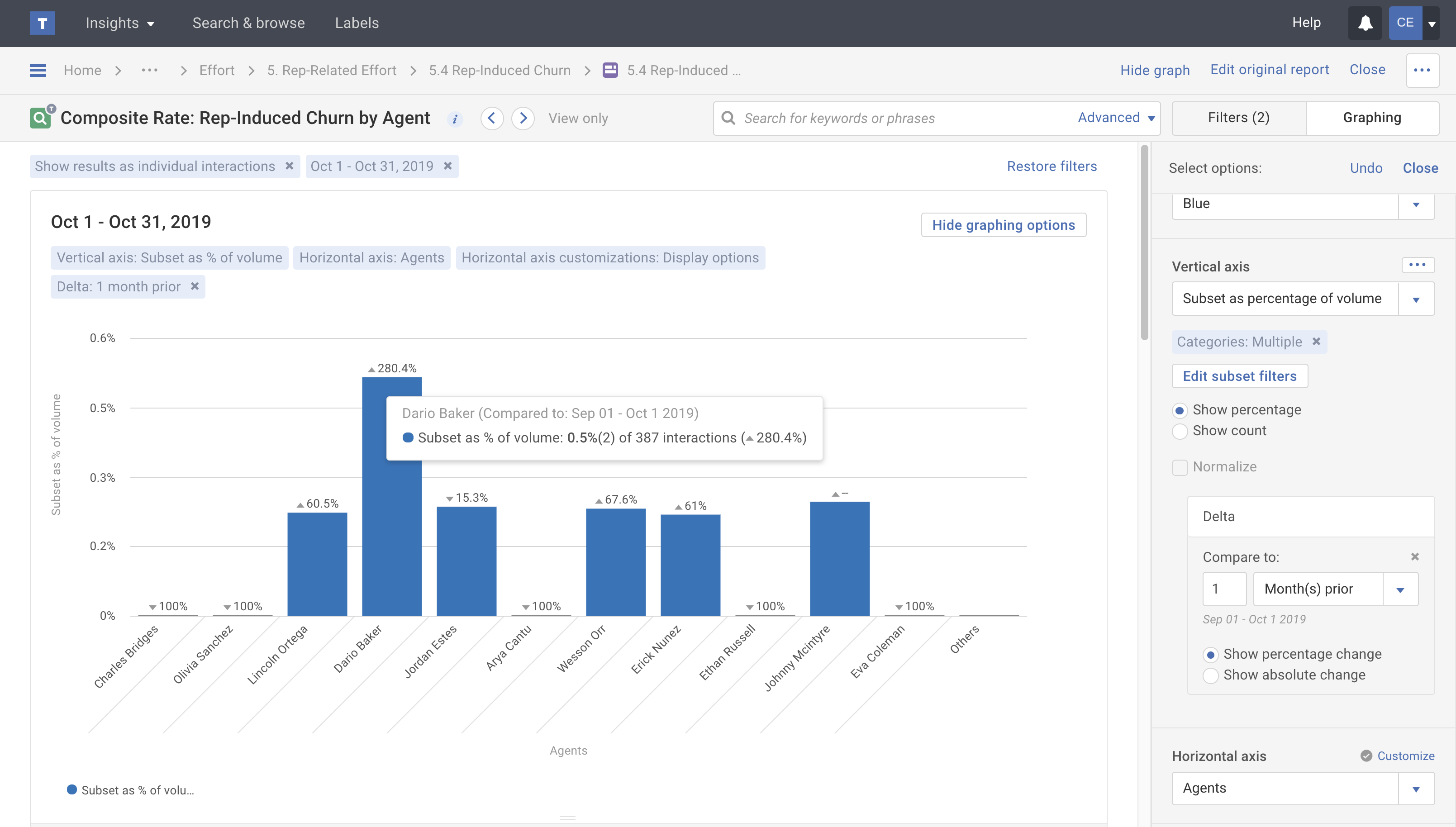 When you're graphing data you can now choose to compare two time periods across your graph so you can identify any change, or delta, between the two.

Let's say, for example, you want to coach an individual agent, week-by-week, to understand if the agent's targeted behaviors increased or decreased or how much they've improved. Or, coach a salesperson around behaviors like increasing their Asking for a sale or Reading a required disclosure or Formal close.
At a higher level, graphing a delta is useful for seeing change in data points like Customer recontact or Channel switch for an organization—do we have more or less customers calling in stating they've had to call back multiple times or they've already attempted this in a self-service channel?
Within the Graphing panel, select the More actions ( ••• ) menu by the Vertical axis menu on Stacked bar, grouped bar, area and line graphs. The More actions ( ••• ) menu will be by the Measurement menu on pie and table graphs.
A new Delta section will appear below your Vertical axis allowing you to choose the time period you'd like to compare your existing graph data to. You have the option to compare a number of years, quarters, months, weeks or days prior.



a) Be sure to choose a number and time measure that align with the date range already on your graph (editable from the Filters tab under the Date filter).

For example, if your graph is showing Oct. 1 - Oct. 31 date range (which can be seen in a blue summary at the top of your graph), then you'll want to compare your graph to 1 month prior.

b) The time period you've chosen to compare to will display under your Delta time period selection.

c) Your Delta can be customized to Show percentage change or Show absolute change based on your selection.



Note: Is something more about showing absolute change needed?

If your graph's existing date range (from the Filter) and the delta time period you're comparing don't align, you'll get an error message you need to update the number of years, quarters, months, weeks or days prior you'd like to compare.

In the error below, the graph's showing the Composite Rate of Channel Switch occurring over the last 24 months, while the Delta time period is set to compare one month prior:


To remove the comparison, or delta, select the 'x' to the right of "Compare to" under your Delta's timeframe options.


The comparison you create will be saved when you save your graph as a report and open it later. Your comparison will also display in the CSV download as a new column labeled "Delta".


---
What's next?