Overview:
Add multiple average lines to the graph to see where your data falls in relation to an average.
---
Getting started: Graphing features are available in both Search & browse and My reports.

From Search & browse, either select the Graphing tab next to the Filters tab, or begin a new search and select the option to Show graph next to the Save as a report button.

From My reports either select the Graphing tab or open a saved report in My reports list.

Add multiple average lines to the graph: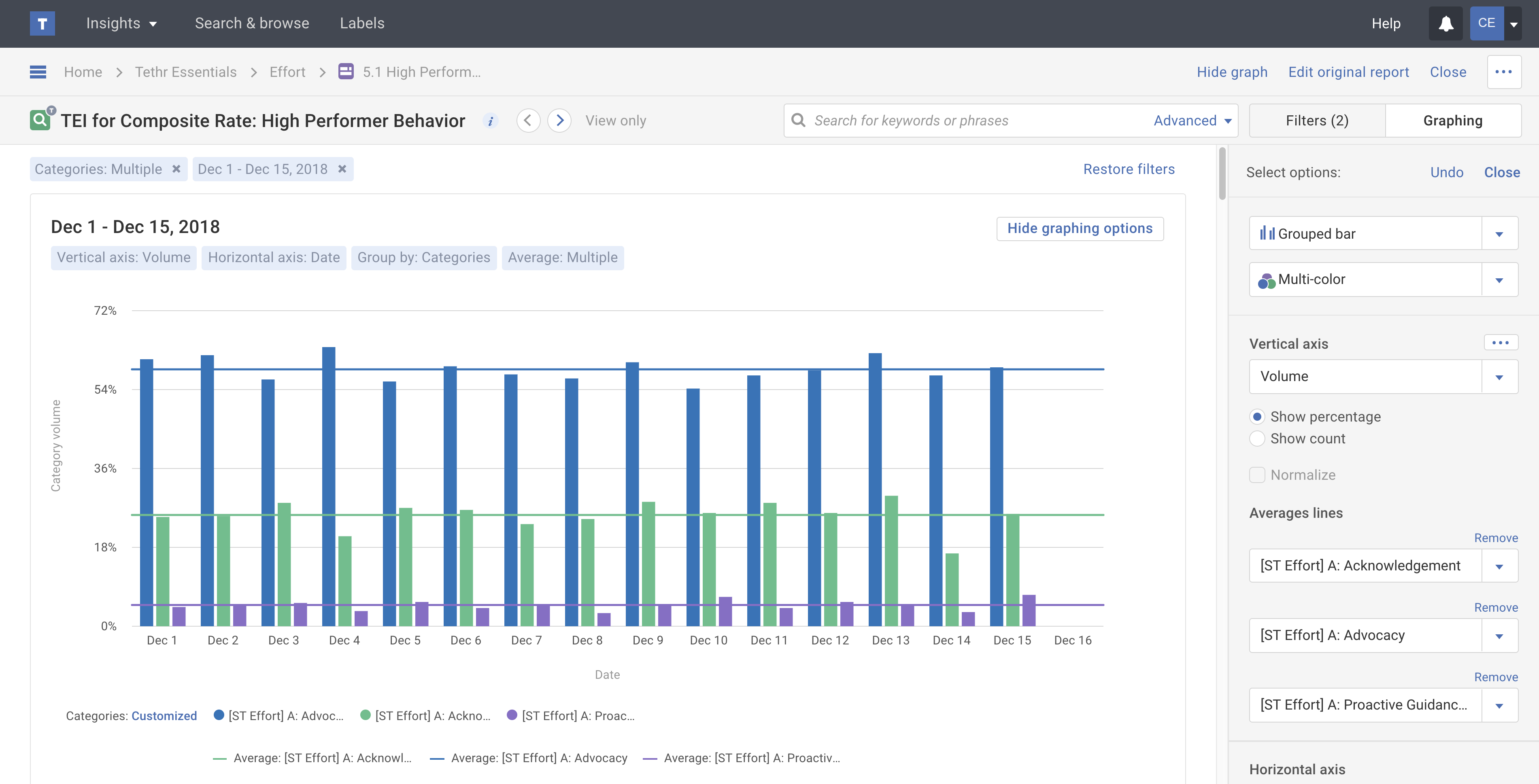 When you're graphing data using a Grouped bar or Line graph, you can now specify multiple average lines with custom values on your graph in addition to showing the graph's overall average line.

Let's say, for example, you're a floor supervisor of a call center and you're monitoring multiple agent behaviors (like acknowledgment, advocacy, and proactive guidance) in one graph. Adding multiple average lines to your graph allows you to quickly isolate an individual behavior and its average without the need to build a separate report for each behavior you want to monitor.
Tethr Best Practice: When monitoring and coaching agent behavior change, Tethr recommends you both introduce and focus on one behavior at a time during agent coaching sessions. Think F.O.C.U.S., or Follow One Course Until Successful. When one behavior is addressed satisfactorily, you can introduce another.
Making sure you have a Grouped bar or Line graph type selected, within the Graphing panel, select the More actions (

•••

) button to the right of the Vertical axis. Then select the Add average line option in the drop-down menu.


If you're not using the Group by menu to group your data by agents, categories, custom groups, etc., then adding an average line will simply add an overall average to your graph that is not customizable.


To add multiple, customized average lines, make sure you're utilizing the Group by menu to group your data by criteria like agents, categories, custom groups, etc.
Below your vertical axis you'll see additional options appear that allow you to:

a) Select the target of your average line (for example, show the average for agent acknowledgment behavior).
b) Remove the average line and target value.




Note: You can create as many average lines on a single graph or report as you need. But, keep in mind that too many average lines on one graph could dilute the message you're trying to convey with the graph or report. So, keep it simple and straightforward.
Note: The average line you create will be saved when you save your graph as a report and open it later. Average line values don't appear in the CSV download of your graph or report.
---
What's next?