What are dashboard filters?
Dashboard filters enable you to see and dissect data differently by applying filter criteria to all reports on a dashboard from the dashboard screen with the option to save and share the filtered view.
---
Elements of dashboard filters

Access the filters panel to apply filters
Save filters if applicable
Share the filtered dashboard with other users
Reset applied filters to the last saved version of the dashboard
Clear added and inherited filters
View a summary of filters applied to the dashboard
---
Apply a filter to a dashboard
When viewing a dashboard, open the filters panel and select your desired filter criteria. The filters you select will be applied to the reports on the dashboard immediately.
Original dashboard
If you are viewing the original dashboard with edit rights, you have the option to save the filters. Saving dashboard filters will affect the original dashboard and change the view for all users that the dashboard is shared with.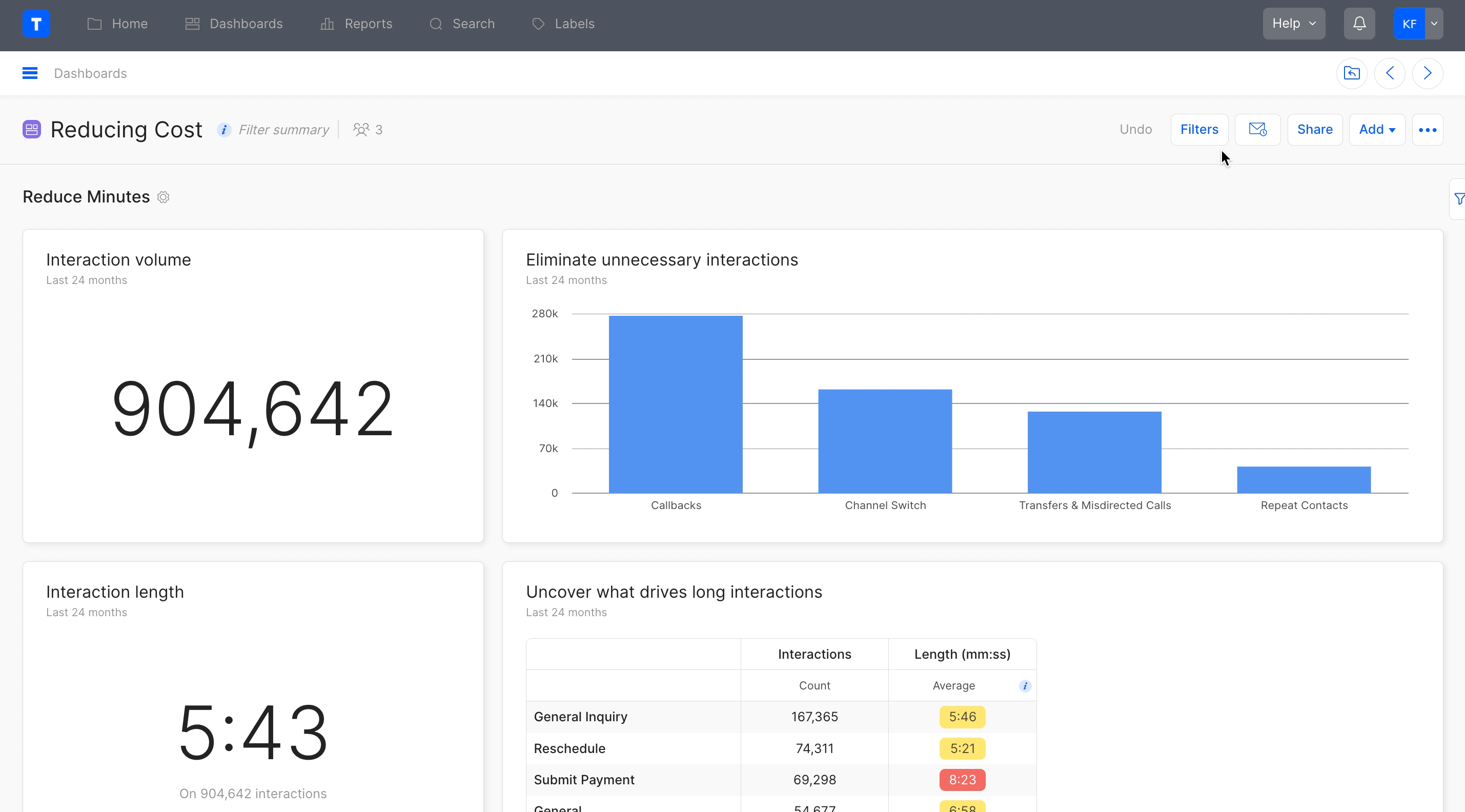 Dashboard instances
If you are not viewing the original dashboard or you do not have edit rights to the dashboard, you can still temporarily change the data displayed on reports still by applying filters. If you'd like to save these filters, you can edit the original dashboard or create a copy of the dashboard using the overflow menu.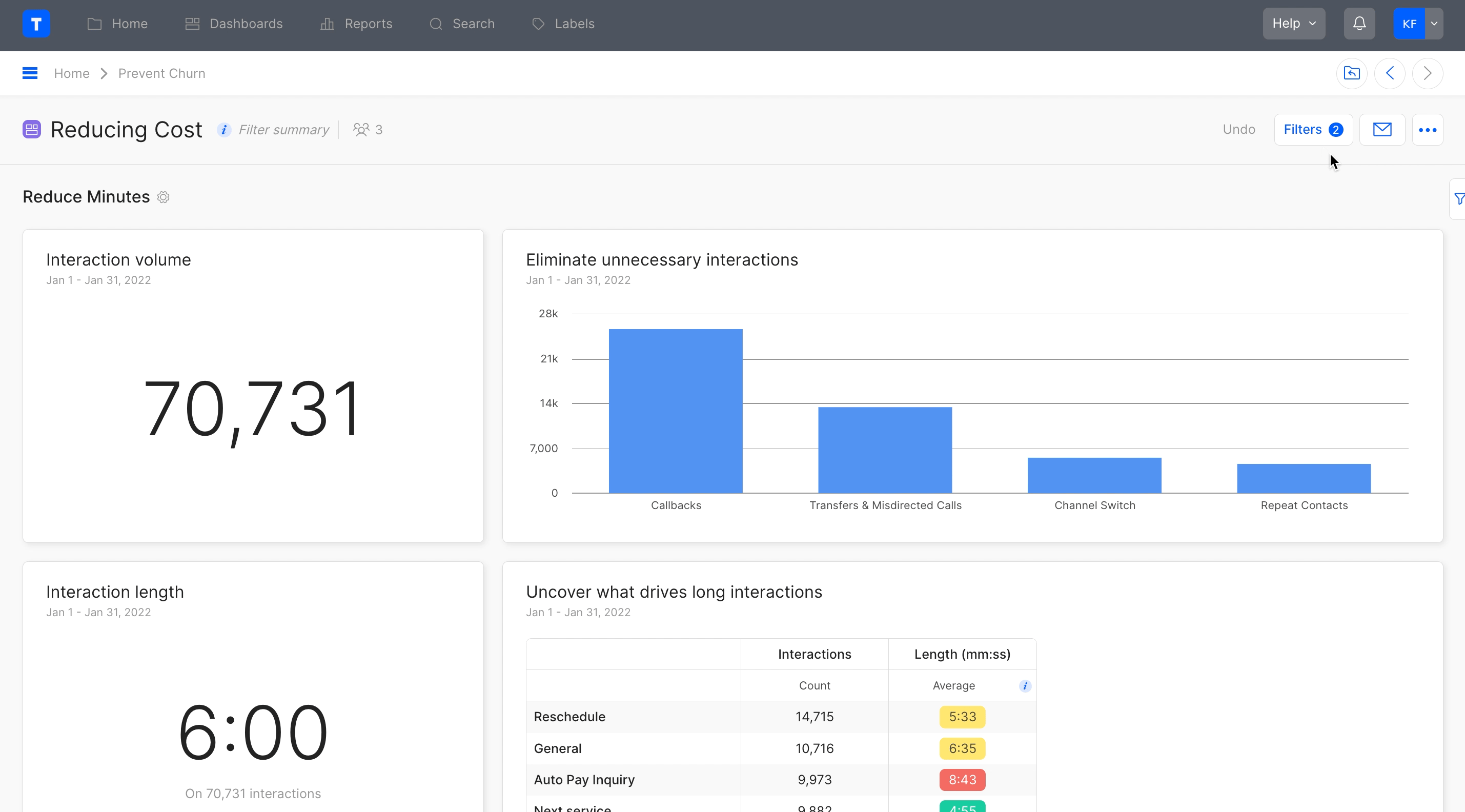 Tethr tip: Open a report in a new tab to view the report with unsaved dashboard filters applied.
---
Remove a filter from a dashboard
Clear filters
To clear dashboard filters, you can either click clear next to the filter selection in the filters panel, or hover over the Filter summary and clear the tiles. You can clear filters that you applied to the dashboard as well as use clear to ignore inherited folder filters.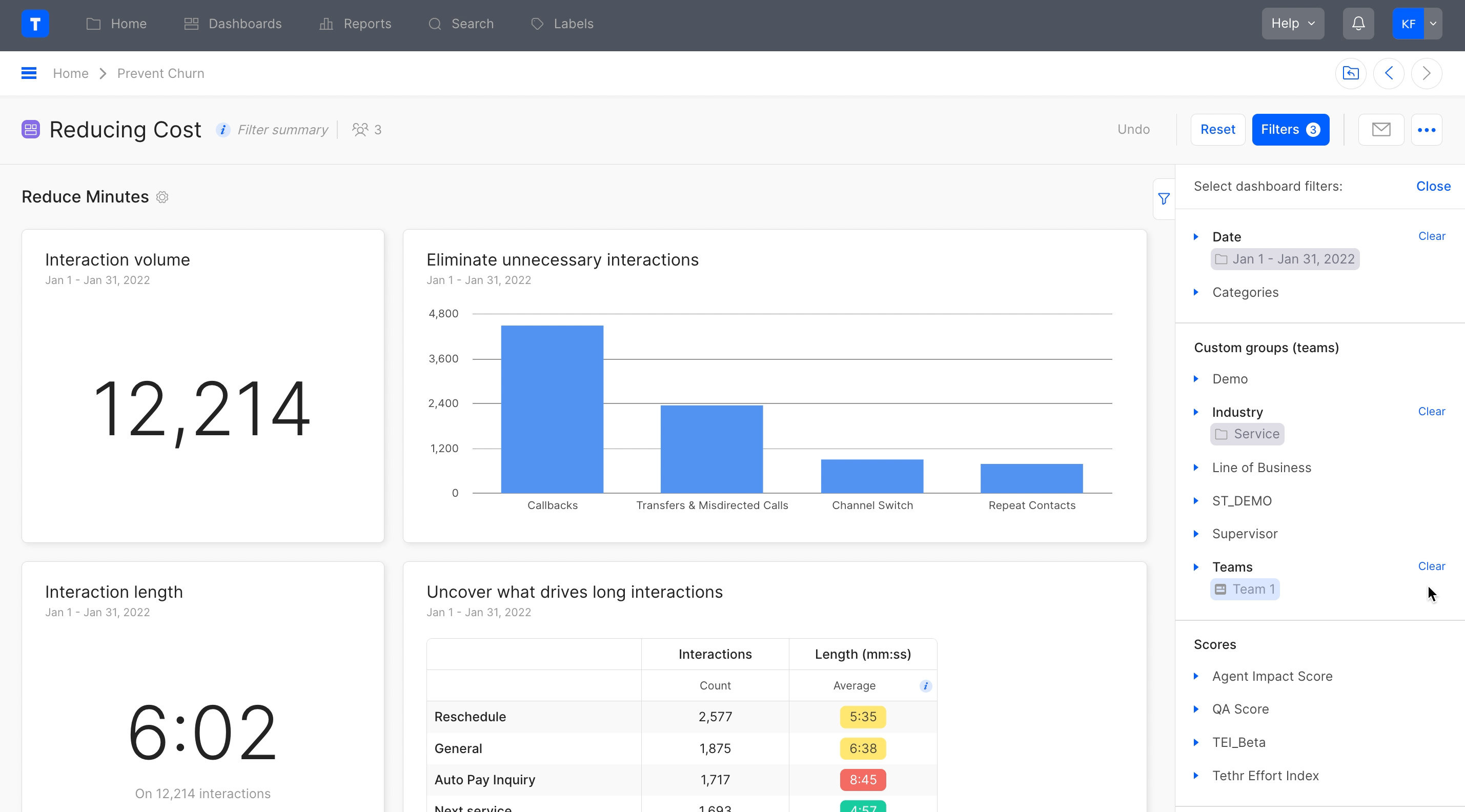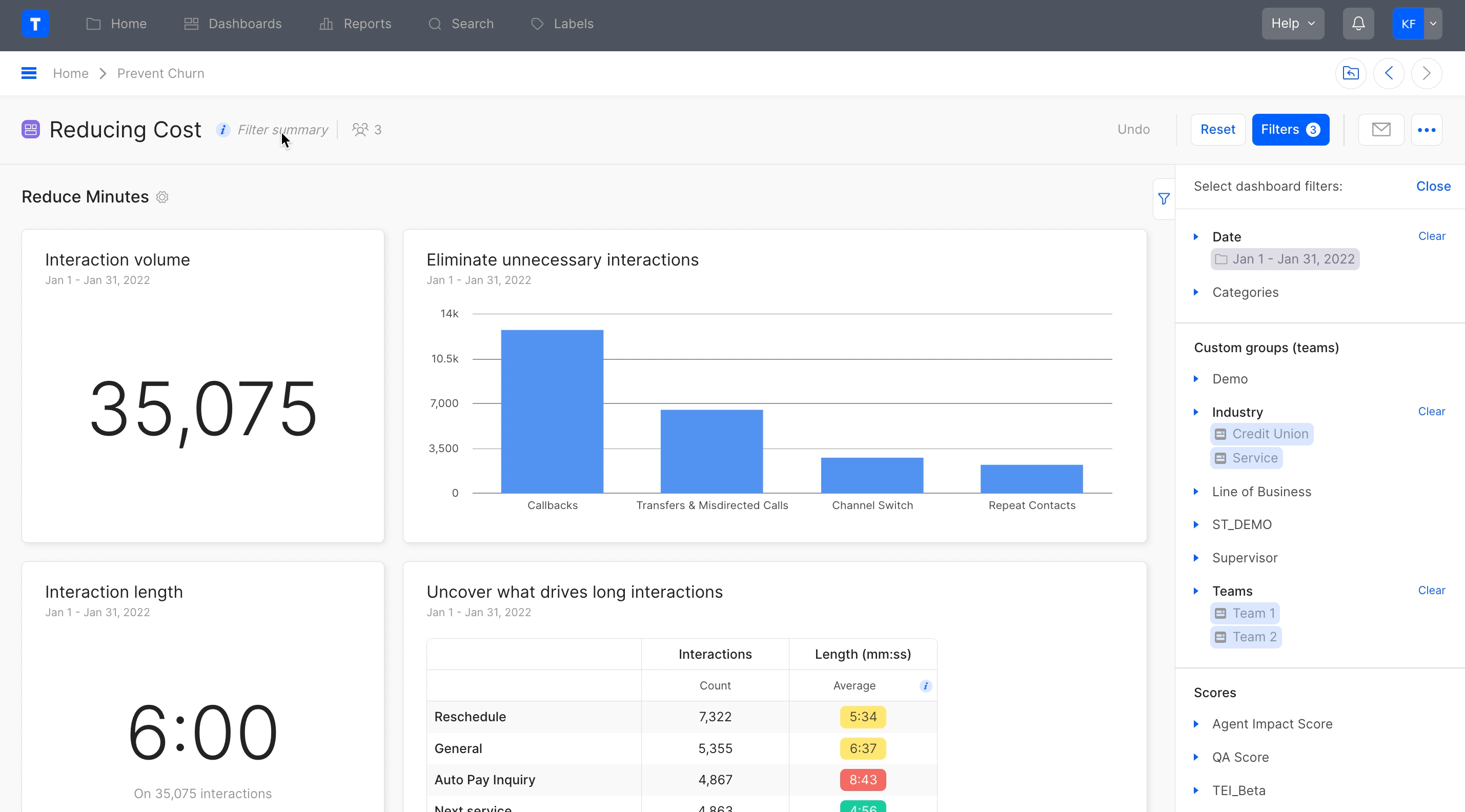 Reset filters
To reset all added dashboard filters and only view saved filters, use the Reset button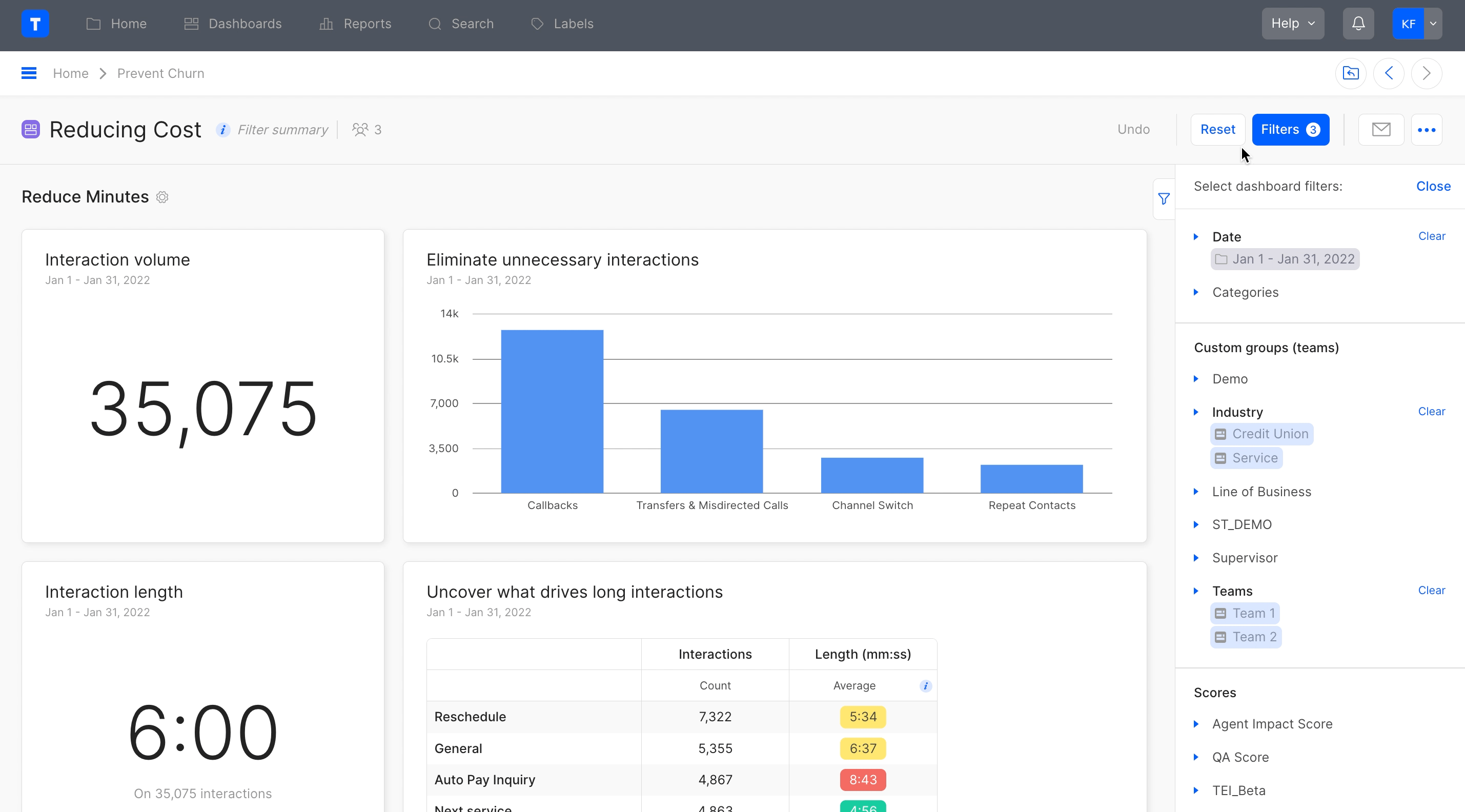 ---
Filter hierarchy
In priority order:
Emailed dashboard filters > report tile instance filter > folder filter > user view filter > linked dashboard filter > dashboard filter > base report filter